Adelphi University Faculty Scholarship

Our faculty's research and scholarship enriches our students, our community and the world.
The faculty is the heart of any university. In recent years, Adelphi has expanded the size of its full-time faculty and increased support for scholarship. The results of these strategies are apparent in students' learning and success, and evident in the contributions they and their professors are making to communities locally and globally.
Since 2001, the number of full-time professors has increased from 194 to 330. Adelphi has been able to draw diverse and talented faculty members who are attracted by the opportunities to teach and pursue scholarship in a well-resourced institution that is near New York City. Adelphi faculty members have won Fulbright Program fellowships, the Pulitzer Prize, a Guggenheim Fellowship, grants and fellowships from the National Endowment for the Arts and the National Endowment for the Humanities, and competitive funding from the National Science Foundation and the National Institutes of Health.
Adelphi faculty members regularly collaborate with students in their research, and new ways of teaching—including new courses and majors—are sparked by scholarship. Increased student participation in scholarship is evidenced by the explosive growth of the Adelphi University Research Conference. At this annual event, undergraduate and graduate students are invited to present their research and creative endeavors that they are pursuing with faculty mentors. Participation in the conference has easily doubled since its debut in 2007.
Recent issues of Erudition magazine—Adelphi's annual magazine highlighting faculty scholarship and creative activity—illustrate the breadth and depth of faculty work and its profound impact at Adelphi and beyond.
---
Faculty Spotlight
Professor Paul Moravec is the recipient of the 2004 Pulitzer Prize for Music.
He has also garnered the Rome Prize Fellowship and a Guggenheim Fellowship. The composer of more than 100 works, he recently penned "Change at Jamaica," a piece commissioned by eight Long Island high schools for their students.
Robert Bornstein, Ph.D., a professor at the Gordon F. Derner School of Psychology, has received five grants from the National Science Foundation and the National Institute of Mental Health (NIMH). With his latest NIMH grant, he is collaborating with an Adelphi alumnus to transform psychological testing.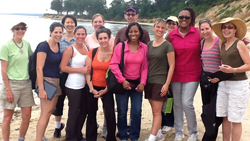 Supported by two New York State Race to the Top grants, Emily Kang, Ph.D., an assistant professor at the Ruth S. Ammon School of Education, is collaborating with elementary schools in Freeport and Wyandanch, New York—two high-needs school districts—to transform science teaching.
---
Meet more of Adelphi's faculty.